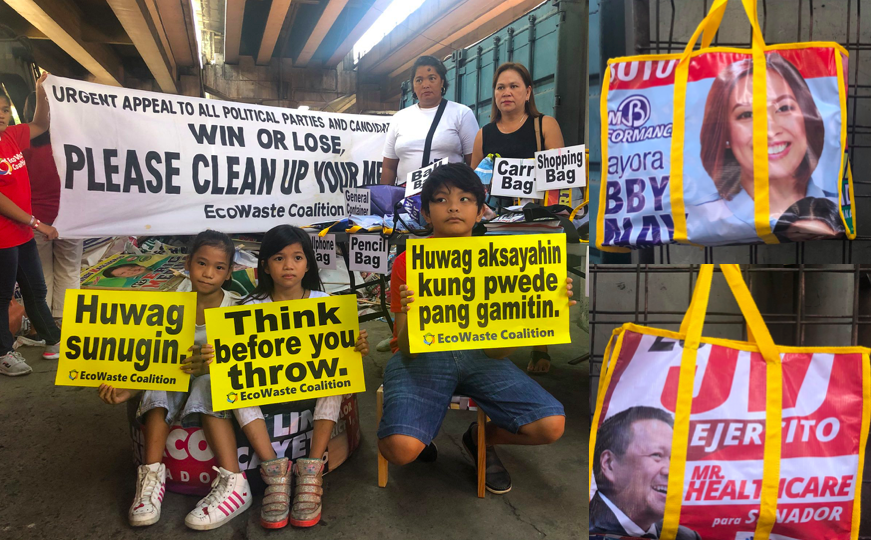 Election candidates have been urged to clear away their campaign materials and find new uses for the acres of plastic signs and tarpaulin. 
The Department of the Interior and Local Government (DILG) and campaign group EcoWaste Coalition have both issued the call today (Tuesday, May 14).
In a statement, DILG Secretary Eduardo M. Año said: "The polls are over and the people have decided on who deserves to lead them towards genuine change. The immediate task at hand is to call on your supporters to clean up and rid our communities of poll trash.
"Win or lose, show that you are a good sport and that you have the best intentions for your communities by being part of the clean-up drive in your areas." 
He also said that he expected there to be tons of trash left littering public places because of the numerous campaign posters, sample ballots, flyers, leaflets and tarpaulins.
"Let us show that we filipinos have discipline. Let us remove any trace of the just-concluded polls and start cleaning our surroundings to prove that we have a clean motive in serving the people," he said.
Environmental campaign group EcoWaste Coalition urged political candidates to "upcycle" their campaign materials. The group said these can be made into bags, notebooks, folders and other containers. 
"Regardless of the outcome of your election bid, we appeal to all candidates and parties to take down your campaign materials without delay,'' said Aileen Lucero, the group's national coordinator.
"Sort the dismantled campaign materials and upcycle them as much as possible."
Other uses for the election trash revealed by the group today include as bookmarks, envelopes, folders, photo frames, name plates, scrap books and even mobile phone cases.
Tarpaulins can also be reused to upholster furniture, as a cover for vehicles and as awnings for homes and businesses.
Follow our Facebook page for daily news updates
…