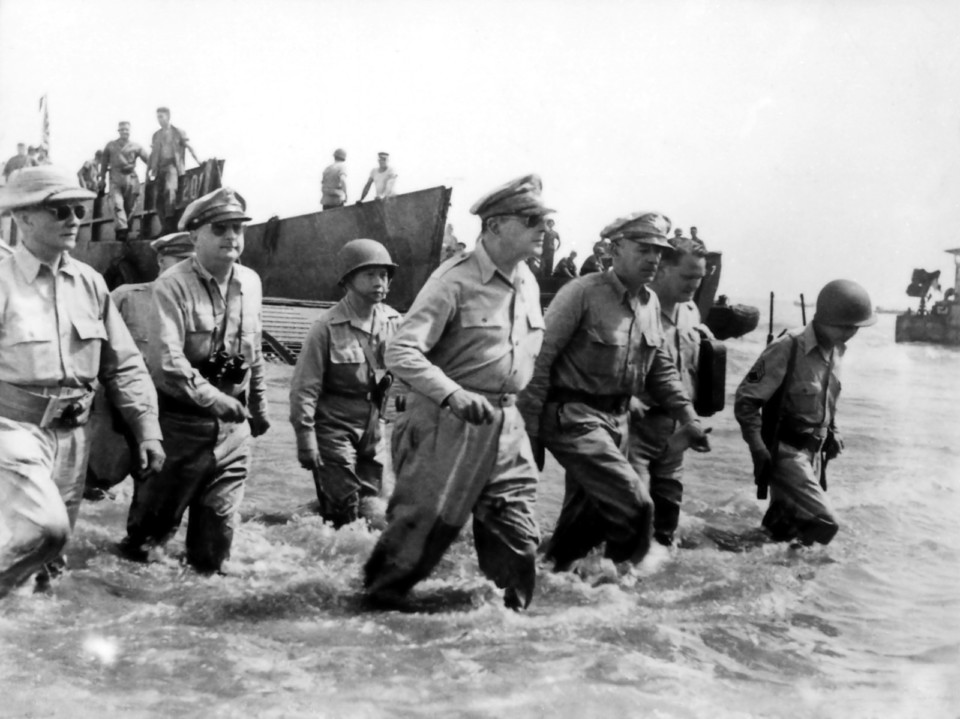 Plans to commemorate the 75th anniversary of General Douglas MacArthur's Leyte Landings on October 20, 1944, are now being finalised.
The Mayor of Palo Town, Remedios L Petilla, has said that the event would be attended by some of the dwindling band of surviving World War II veterans. These men are now in their nineties or even hundreds.
Their attendance as guests of honour is being arranged by the Philippine Veterans Affairs Office under the directorship of Army veteran General Nestor Carolina.
Renowned historian Xiao Chua, will be one of the guest speakers during a forum event. He will describe how the Battle of Leyte Gulf was the turning point of the Pacific War when American and allied forces defeated the Japanese naval fleet.
Leyte Landings
The Battle of Leyte Gulf was the greatest naval battle in history to date, involving more than 300,000 Allied troops, against 85,000 Japanese Imperial forces commanded by 
General Tomoyuki Yamashita.
The Americans led a force of 211 warships, including 16 carriers and 12 battle ships as against the Japanese, who had only 68 warships.
A decisive advantage was also secured in the air, with 1,300 Allied warplanes compared to Japan's 300.
This was in stark contrast to the situation at the outbreak of the war when an overwhelming Japanese force overcame the American and Filipino forces in Bataan after months of fierce resistance.
The liberation of Leyte got underway in the early hours of October 17, when us troops sneaked into the island, taking the Japanese by surprise.
The Japanese had assumed that MacArthur's forces would land in Mindanao, but the legendary general chose Leyte instead, which had been less fortified by the Japanese.
The successful Leyte Landings fulfilled MacArthur's promise of "I shall return" and was the first step to liberate the Philippines from the clutches of the Japanese.
Follow our Facebook page for daily news updates
https://www.youtube.com/watch?v=_T52VCTxA7A